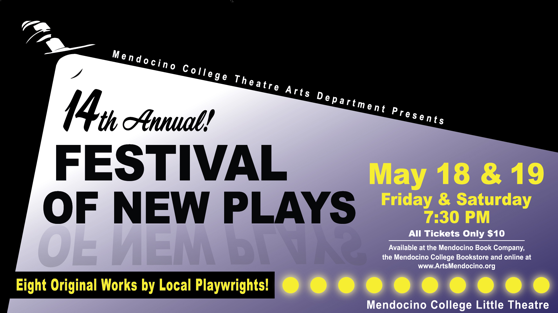 The 14th Annual Festival of New Plays 
Eight student directed ten-minute plays by local playwrights. A beloved annual tradition returns to the Mendocino College Little Theatre. A high energy production of short plays celebrating local home-grown creativity!
PERFORMANCES:
May 18 & 19, 2018
Friday & Saturday at 7:30 PM
Mendocino College Little Theatre
Purchase Tickets Online: https://www.brownpapertickets.com/event/3084369
Tickets also available at the Mendocino College Bookstore, the Mendocino Book Company and at the door as available.
INFORMATION: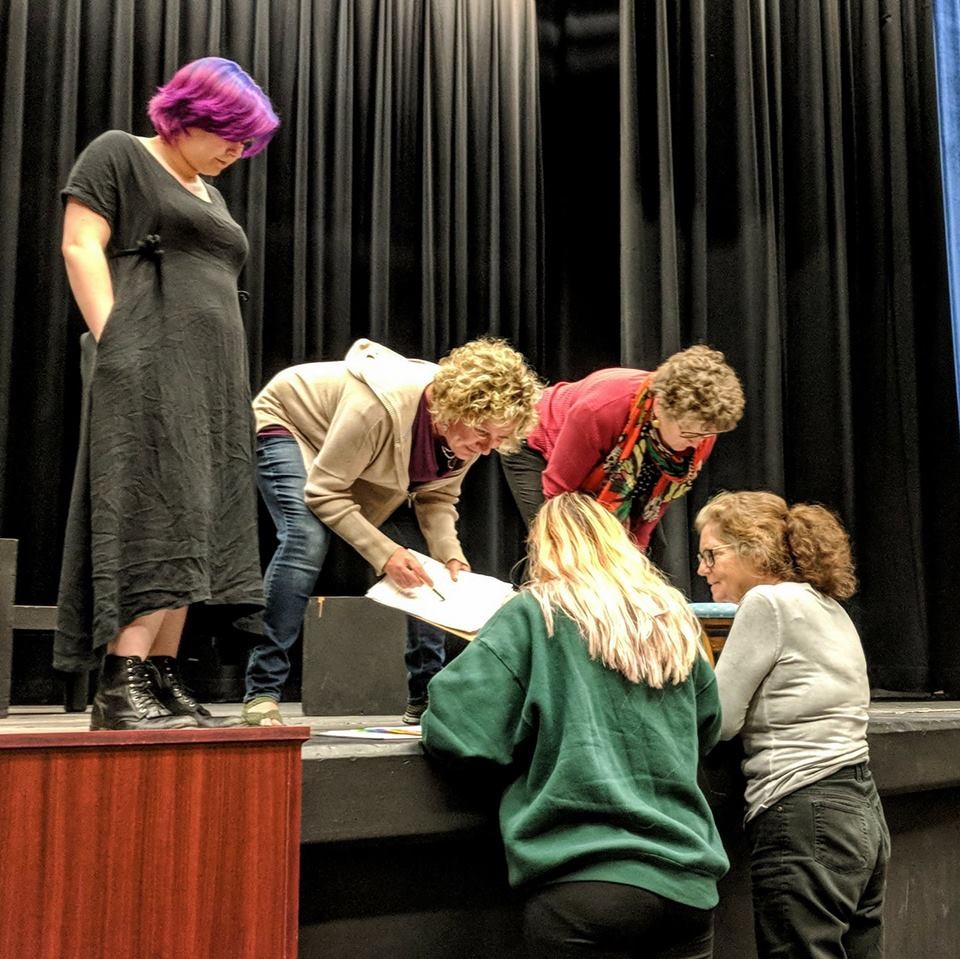 Actors and director confer about their new script in Mendocino College's 2018 Festival of New Plays.
14th Annual Festival of New Plays at Mendocino College
The Mendocino College Theatre Arts Department will present the 14th Annual Festival of New Plays on Friday and Saturday, May 18 and 19 at 7:30 p.m. in the College's Little Theatre, Room 710, on the Ukiah campus.  This festival is a beloved Ukiah theatre tradition, and producer Reid Edelman is thrilled to be bringing the festival back this year after a one-year hiatus.  This year's festival features 8 new plays by local playwrights. Each play is approximately 10 minutes long and will be presented at both performances.  Some of the plays were developed in English professor Jody Gehrman's writing classes; others were submitted by writers from throughout Mendocino and other nearby counties. Gehrman is also the production's dramaturge, helping develop the scripts.
The plays are directed by Mendocino College directing students and acted by students in the college conservatory cohort group as well as other local actors, under the guidance of theater professor Reid Edelman. The short plays cover a wide range of topics and performance styles.  The festival also features original lighting designs by students in the college Stage Lighting class, under the direction of college Technical Director Steve Decker.  Music and sound effects created by college theatre technician and media specialist David Wolf help sustain the high energy spirit of the production. According to Edelman, "This annual festival is one of the college theater program's most exciting projects, and this year's line-up of plays is a delightful mix."
In Tony Sciullo's comedy "Loud Angry People in Love," a middle-aged mother goes out on her first date in ages, leaving her father and her daughter at home to watch reruns of "The Rockford Files" and to meet with a mysterious stranger bearing a very special substance. The director is college theatre major Joy Brown; the cast includes Timothy Fischer, Kristin Hills, and conservatory cohort students Owen Browne and Shannon Sawyer.
"Gail and Peter," a comedy by Berkeley-based writer Carol Lashof, is loosely based on the myth of Pygmalion. A sculptor is finishing up a commission for the local tennis club.  When her statue comes to life, she must confront how to balance love and humanity in a world of contracts and commerce. The cast includes Ian Blundell and Lhasa Summers under the direction of conservatory cohort student Rickie Farah.
Next, in Michael Riedell's play "Lawn Art" a woman steadfastly refuses to acknowledge the plain to see fact that her dog has left his mark on a neighbor's lawn.  Riedell, the creative writing instructor at Ukiah High School, delightfully satirizes life in a world of "alternative facts"!   The cast includes Beth Salomone, Timothy Fischer and Schuyler Marcier, under the direction of Andrew Anthony.
Jasmine Byerley is directing Scott Lummer's play "Psych Nick." In this play, a therapist must confront her own preconceptions when a patient shows up unusual family issues. The cast features Ari Sunbeam, Fallon Hovland, and Kristin Hills.
"Factory Settings," by Susan Sher, involves a poignant encounter between a homeless woman and an adjunct college English professor who has turned to prostitution to make ends meet.  While the plot may seem far-fetched to some, it is actually based on a real-life news story.   The cast includes Clara Carstensen and Candace Luna.  The director is Shannon Sawyer.
"The Weird Sisters" by Jacquelyn Wells and directed by Clara Carstensen, is modern and comedic spin-off of Shakespeare's Scottish tragedy Macbeth.  The three witches from Shakespeare's play intervene in the affairs of a small theatre planning a revival of the play.  The cast includes Schuyler Marcier, Libby Guthrie, Virginia Hanley and Janet Denninger.  The director is Clara Carstensen.
Natasha Yim's play "Two Bloody Marys" transports us to a secluded bar in Transylvania where two American travelers hunt for vampires.  The circumstances are gothic and horrific, but the tone is absurdly hilarious! Brittani McKemy directs a cast including Ari Sunbeam, Ian Blundell, Owen Browne, Mackenzie Hanssen, Joni McLeod, Zack Hicks, and Eleazar Brown.
Finally, the evening ends on a serious note with #metoo by Kristin Hills.  Three women, from three different generations, speak honestly and openly about their experiences with sexual discrimination, abuse and rape. The subject matter is certainly intense, but the presentation is thoughtful and not particularly graphic, so the play is appropriate for ages 12 and older.  Ilena Pegan directs Virginia Hanley, Blare Elliott and Jody Gehrman. 
Tickets are available in Ukiah at Mendocino Book Company and the Mendocino College Bookstore, and online at www.ArtsMendocino.org. This production is recommended for ages 12 and up.  Admission is $10. This production is expected to sell out quickly, so audience members are encouraged to purchase tickets soon. For more information, call Reid Edelman at 468-3172.​