Mendocino College Repertory Dance Theater Presents: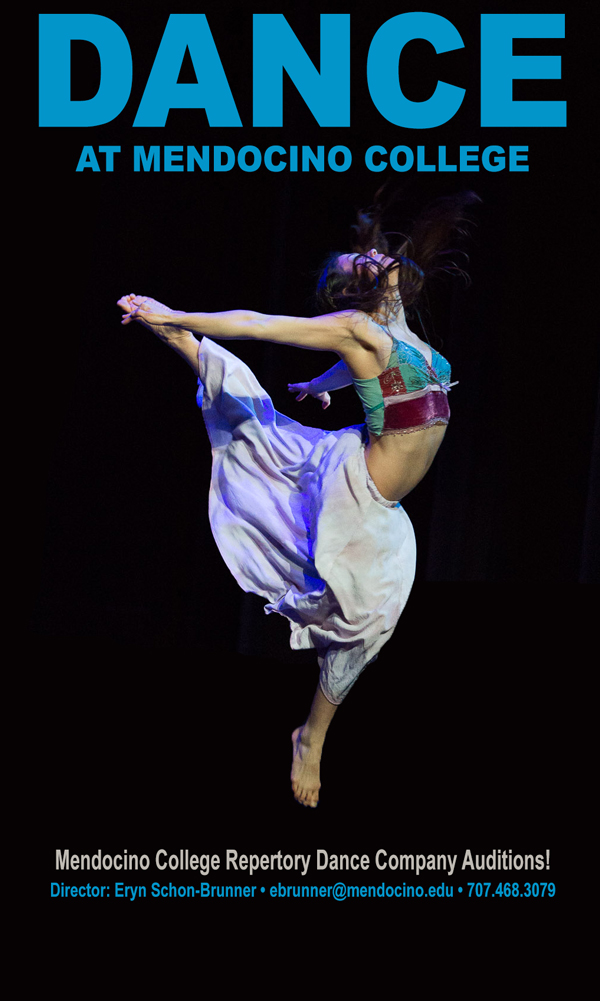 Orientation/Auditions: (See Repertory page for more info)
Mendocino College Repertory Dance Company
August 16th 6-8pm
Rm 820 Ukiah Campus 
Repertory Guest Artists:
Stefan Haves, Cirque du Soleil 
Kara Starkweather, Mendocino Dance Project
Trudy McCreanor, Mendocino Ballet
Devon Near, Zouk/Lambada
Eryn Schon-Brunner, MC Repertory Director
For more information contact: ebrunner@mendocino.edu 
---
Welcome to the Mendocino College Dance Department.  We offer an AA degree in Theatre Arts with an emphasis on Dance and a variety of dance classes for anyone wishing to engage in the art of dance, for academic pursuit or just for fun!  We offer the basics for beginners to advanced level students.  This includes Ballet, Jazz, and Modern/Contemporary dance, Tap, Choreography, Dance Performance, and Dance for Musical Theatre. Additionally, our curriculum includes several world dance genres such as Hip Hop, Afro-Cuban, Middle Eastern, and Salsa Rueda.  To read more about our AA degree and the dance courses we offer, click here.
The department presents two dance performances a year.  In the fall, our resident Repertory Company presents a yearly show featuring our more advanced dancers and in the spring the department presents the ever popular Spring Dance Festival featuring the variety of dance forms we offer at Mendocino College.  For more information about the Mendocino College Repertory Dance Company click here.  To view photos from our past dance performances click here.  To view a dance presented by our Repertory Dance Company click here:  https://www.youtube.com/watch?v=PWl7peI9nEs
Our dance department is closely allied with Theatre and Music and students interested in musical theatre have many opportunities to perform.  Musicals that we have produced in the past include CATS, Legally Blonde, Cabaret, Fiddler on the Roof, Pirates of Penzance, Grease, Guys and Dolls, and many others!  To view photos of our past musical theatre productions click here.
Come dance with us!