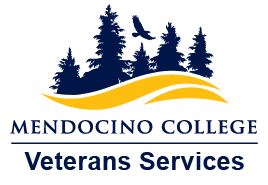 Welcome to Mendocino College Veterans Services and the Veteran Resource Center!
Visit us in MacMillan Hall Room 1240
We are here to help you.  The following are examples of services that can be obtained in the VRC:
Assistance with the Mendocino College application and registration processes
Eligibility for priority registration
Textbook Lending Library
Evaluation of military transcripts and DD-214s for college credit
Evaluation of transcripts from other colleges/universities
Information about VA education benefits
Applying for VA education benefits
Certification of enrollment for education benefits upon request
Evaluation of educational progress toward degree and certificate programs
Academic Counseling
Connection with community resources
SUMMER 2022 HOURS OF OPERATION
Monday, Tuesday, and Thursday: 10-11:30am and 12:30-4pm
BECOMING A MENDOCINO COLLEGE STUDENT
We want you to succeed and achieve your goals and so require that all new and transfer students complete the matriculation process as follows:
PAYING FOR COLLEGE
The following provides access to the cost of attendance and how to pay for college.
Please review current Mendocino College Fees and Tuition and direct any questions regarding residency or fees and tuition to veterans@mendocino.edu.  
We also encourage you to review the Net Price Calculator, which is intended to provide an estimate of net price information (defined as estimated cost of attendance — including tuition and required fees, books and supplies, room and board (meals), and other related expenses — minus estimated grant and scholarship aid) based on what similar students paid in a previous year.
All students are encouraged to submit the Free Application for Federal Student Aid (FAFSA) or California Dream Act Application CADAA.  Once the application has been received and processed, detailed information about aid for which you are eligible can be accessed through the My Financial Aid Status option in MyMendo.
For assistance in completing the FAFSA or CADAA, or more information about available aid, please connect with the Financial Aid Office at: financialaid@mendocino.edu or 707-468-3110
For many students, borrowing in order to finance their college degree is necessary. While student loans may be a necessary part of financing your degree, it's important to borrow responsibly. This means only borrowing for what you need. College is an investment in your future.  To review estimated student loan debt upon completion, please review the Mendocino College scorecard.
Students using educational benefits are encouraged to review the GI Bill® Comparison Tool.  This tool allows you to determine the current educational benefit pay rate based upon the benefit you will use and the college you attend.  It also offers the option to compare colleges to determine which is the best fit for you.
RESOURCES
Mendocino College Academic Programs - mendocino.edu/academics/departments
Mendocino College Graduation Rates - collegescorecard.ed.gov/school/?118684-Mendocino-College 
Mendocino College Job Placement Rates for Graduates - calpassplus.org/Launchboard/SWP.aspx 
Mendocino College Residence for Tuition Information: mendocino.edu/admissions/admissions-and-records/residency
Mendocino College Transfer Credit Information: mendocino.edu/admissions/admissions-and-records/evaluation-non-traditional-learning 
California Department of Veterans Affairs (CalVet) - calvet.ca.gov
Department of Veterans Affairs - benefits.va.gov/gibill/
eBenefits - ebenefits.va.gov/ebenefits/homepage
Lake County Veterans Services - co.lake.ca.us/Government/Directory/VeteransServices.htm
Post 9/11 GI Bill U.S. Department of Veterans Affairs Facebook Page - facebook.com/gibillEducation/
Mendocino County Veterans Services - mendocinocounty.org/government/health-and-human-services-agency/adult-services/veterans-services
Joint Services Transcripts - jst.doded.mil/official.html
United Veterans Council of Lake County, California - uvclc.org/
WEAMS - inquiry.vba.va.gov/weamspub/searchInst.do#content-area
STAFF
Anastasia Simpson-Logg, Director Admissions and Records, SCO
Betsy Helms, Admissions and Records Specialist