Join us for a day of celebration on Friday, September 21st, commemorating World Peace Day and Hispanic Heritage Month, presented by the Hispanic Serving Institution (HSI) Program grant at Mendocino College.
The day will begin with a children's performance at 10-11 AM at the Center Theatre at Mendocino College, featuring the hugely popular group Casada de Flores - an ensemble that creates song and dance pieces for a range of audiences, including wonderful storytelling and performances for children. This event at Mendocino College is targeting 3-5th graders.
In the evening a performance for older students and adults is scheduled beginning at 6 PM in the Theatre. There will be spcial performances and surprises in addition to the two-set performance by Cascada de Flores, which should be a delight for all who attend. The evening event is co-sponsored with Rotary of Ukiah. 
Ticket sales for the event will benefit Rotary community programs and College scholarships for students in need. Adult tickets are $15; Children 12 and under are $5; Mendocino College students can attend free.
PURCHASE TICKETS BY CALLING MONICA FLORES AT 707-467-1008 OR VISITING https://bpt.me/3602118
More information about Rotary of Ukiah can be found on their Facebook page: https://www.facebook.com/RotaryClubOfUkiah/
Information about Cascada de Flores: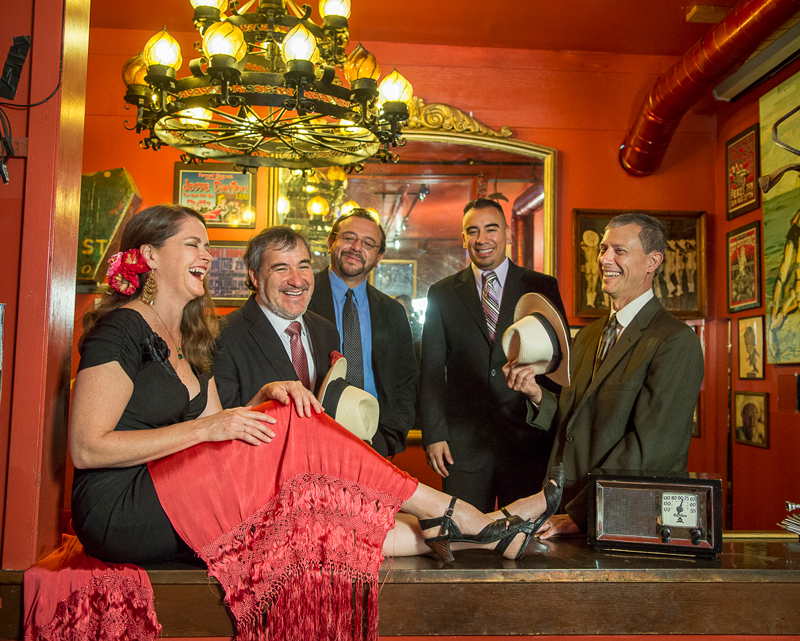 The core members of Cascada de Flores have been re-imagining Mexican tradition for years. After falling for Mexican music as a young woman, Arwen Lawrence toured with Grammy-winning L.A. mariachi heavyweights, Los Camperos de Nati Cano, an apprenticeship that honed her skills and deepened her love for Mexico's musical language. With them, she recorded and performed in venues such as the Teatro Degollado in Guadalajara and Lincoln Center of New York. Nati always nudged her towards what she already did naturally: to sing with heart.
Jorge Liceaga grew up in Mexico City, buying his first guitar with the money he'd earned shining shoes. Self taught, he was later mentored by local legend Leonardo 'El León' Salas, a transplant from Yucatan, who taught Jorge to 'guasanguearla' (play with that special Yucatecan swing). Jorge followed his sister and found himself amongst local masters of artistic communication: The flamencos of Gitanerías. From them he received a raw and complicated education, which contributed to his special sensitivity as accompanist.
The pair founded Cascada de Flores in San Francisco, CA in 1999. They began by journeying into the hidden corners of Mexico, seeking the real stories of that hugely diverse country. Inspired by the fact that even as deep as its diversity goes, Mexico has a continuous love affair with foreign cultural phenomenon and incorporates them as if they were its own, the ensemble spends 14 years swimming in a magical place somewhere in the Gulf of Mexico and the Caribbean sea where rancheras, boleros, sones and guarachas from México, Cuba, Puerto Rico and Colombia meet.
Cascada de Flores has recorded now four albums, collaborated in numerous projects, including theater and cinema and toured to several areas of the United States. In Mexico they have been delightfully received in venues such as The central plaza in Mexico City with Jorge Saldaña, la Tasca in Jalapa, and lately in the beautiful Biblioteca Henestrosa in Oaxaca city and the main festival of Tezoatlán, Oaxaca. They even traveled to study with the trovadores of Santiago de Cuba. Cascada de Flores is now a phenomenon, cherished by the Latinos that hear them, and opening the minds of its non-Latino fans. Opening minds and hearts to the real stories of Mexico and Latin America has become this group's unofficial mission; Jorge feels pride at being able to arrive at a performance without a wide sombrero and still be received with open arms
In Radio Flor, in the format of a historic yet half-imagined Radio program, this Mexican-American duet has found a venue in which they can express their vast curiosities and talents, while shining in collaboration. In Radio Flor they are joined by musicians with similar longings from both sides of the 'border', three veterans of San Francisco's traditional music and Latin Jazz scenes: Saul Sierra-Alonso (bass, Mexico City), Marco Diaz (piano & trumpet, San Francisco), Brian Rice (percussion, Michigan). The duet has always thrived in collaboration with like-minded artists. The current Cascada de Flores family includes Sabra Weber (voice, flute), Jorge Mijangos (guitars), Rick Flores (guitar), Miguel Govea (accordion, trumpet, bass), Kyla Danysh (violin), Jim Connelly (bass) and Cynthia Holberg (voice).
Additionally, Cascada de Flores is firmly committed to music and cultural education. They present a bilingual music and dance program for children in schools, libraries and theaters such as Montalvo Arts Center (Saratoga), Herbst Theater (San Francisco), Mexican Heritage Plaza (San Jose) and Lobero Theater (Santa Barbara). They have performed in over 1000 Western US schools and Libraries reaching over 500,000 children with their educational program. Recently, the Dúo brought their musical story to la Mixtecan hills of Oaxaca, Mexico. Close to home, members of Cascada de Flores present ongoing bilingual classes and special workshops for children and families focused on traditional Latin American folk songs and Mexican traditional music and dance.