The mission of the Mendocino College Dream Center is to assist undocumented/AB540 students and students from mixed-status families achieve their academic goal. The Dream Center provides services, resources and support to address the unique barriers students face in their pursuit of higher education.
SPRING 2022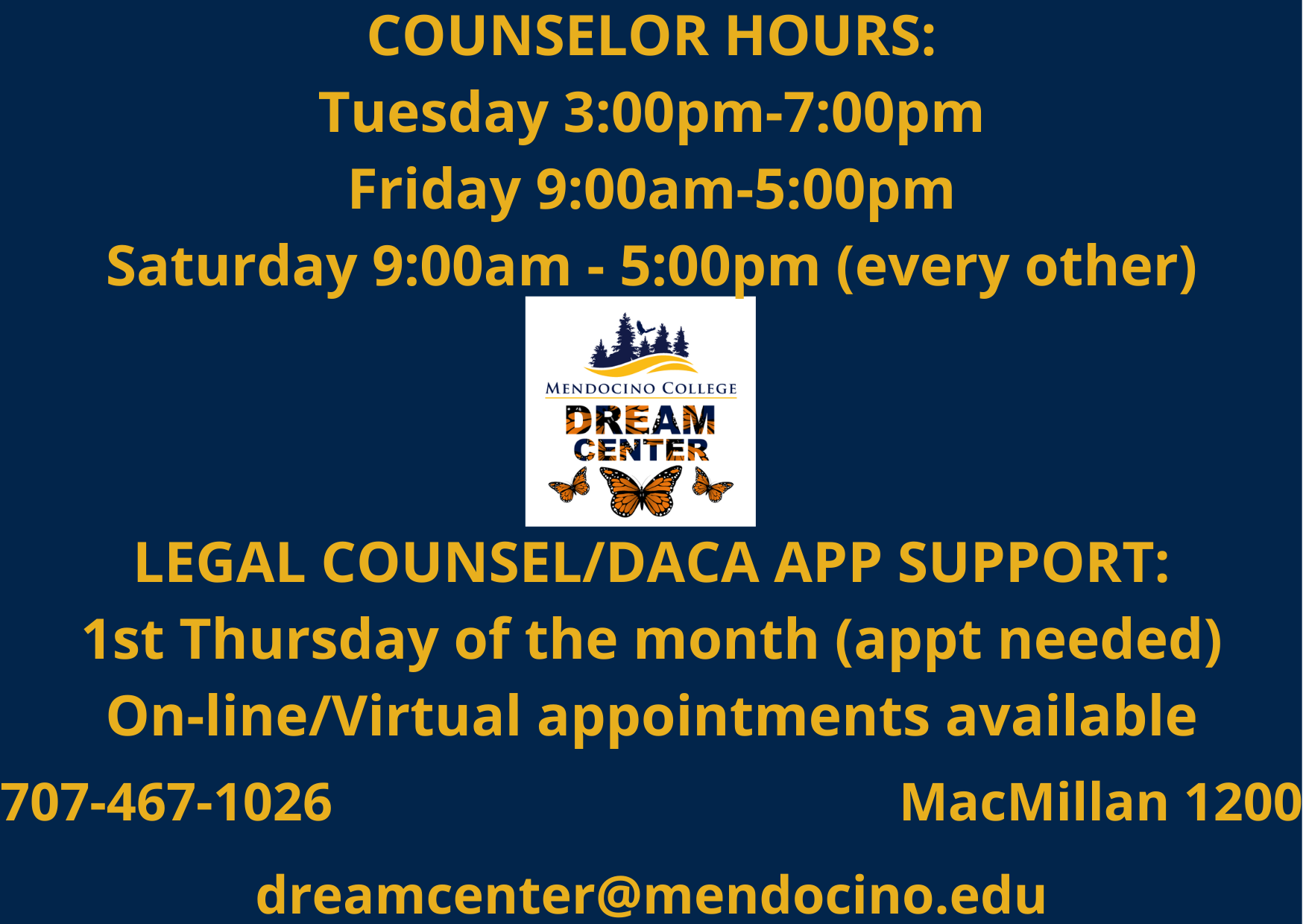 SPRING 2022 (virtually and in-person*** Check when you schedule appointment)
Dream Center Counselor hours:
Tuesdays 3pm – 7pm
Fridays 9am – 5pm
Saturdays 1/22; 2/5; 3/12; 4/9; 5/21; 6/18: 8:00am - 5:00pm
Students can make an appointment by visiting the counseling website https://mendocino.edu/counseling-online, sending an email counselingappointments@mendocino.edu OR Call: 707-468-3048 | 707-467-1026
You can also follow us on Instagram at @mcdream_center and/or email us at dreamcenter@mendocino.edu
Applying to Mendocino College: Admissions and Records Forms
Applying for financial support: California Dream Act Application and How to Apply
General Information on Rights:
The ACLU website Know Your Rights: Discrimination Against Immigrants and Muslims provides information for individuals who may be stopped by police or other state agents (in multiple languages).
The Immigrant Legal Resource Center document Know Your Rights & What Immigrant Families Should Know (PDF) provides general information on both rights and how families can prepare.
Legal Resources:
California Rural Legal Assistance (CRLA) is a nonprofit legal service program created to help California's low-income individuals and communities representing all types of individuals and communities. 
Immigration Advocates Network maintains a national directory of more than 950 free or low-cost nonprofit immigration legal services providers in all 50 states.
Immigration Law Help is a searchable online directory of over 1,000 free or low-cost nonprofit immigration legal services providers in all 50 states. 
The Immigrant Legal Resource Center (ILRC) works with and educated immigrants, community organizations, and the legal sector to continue to build a democratic society that values diversity and the rights of all people.
The Mexican American Legal Defense and Educational Fund (MALDEF) is a Latino legal civil rights organization. Often described as the law firm of the Latino community, MALDEF promotes social change through advocacy, communications, community education, and litigation in the areas of education, employment, immigrant rights, and political access.
The National Immigrant Law Center (NILC) is one of the leading organizations in the U.S. exclusively dedicated to defending and advancing the rights of low-income immigrants.
The National Immigrant Justice Center (NIJC) is dedicated to ensuring human rights protections and access to justice for all immigrants, refugees and asylum seekers.
Opening Doors empowers refugees, immigrants, human trafficking survivors, and underserved Sacramento area residents to achieve self-sufficiency by accessing opportunities to mainstream economic and social systems.
California Human Development (CHD) is a non-profit organization waging the War on Poverty for more than 50 years. Inspired in service to our state's farmworkers, today CHD serves people of low income from many walks of life—giving 25,000 people a year in 31 northern California counties a hand up to the American Dream.
Scholarship Opportunities:
The following websites provide information on scholarships open to undocumented students.
​DREAM CENTER Contact and Staff:
Office: MacMillan 1200 (Ukiah Campus)
Office hours: Monday - Friday 8:30am - 5:00pm
Email: dreamcenter@mendocino.edu     Phone: 707-467-1026        Instagram @mcdream_center