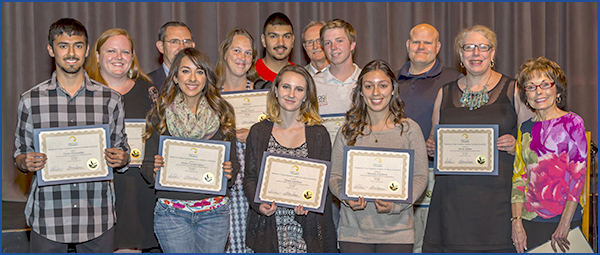 SCHOLARSHIP APPLICATIONS
The Mendocino College Scholarship application period runs from January 2 to March 1 each year. The next application period begins on January 1, 2017 for scholarships for the 2017-2018 academic year.
Applications packets are posted online or are available at all Mendocino College campus locations during the annual application period. You only have to fill out one application to be considered for all the scholarships awarded through the Mendocino College Scholarship awards program.
You must meet one the following criteria to apply for a scholarship during the application period:
currently enrolled at Mendocino College and plan to attend Mendocino College in the fall

currently enrolled at Mendocino College and transferring to a 4-year university in the fall

graduating high school senior who will attend Mendocino College in the fall
SCHOLARSHIP APPLICATION WORKSHOPS
Workshops help guide applicants through our application packet and also provide:
Samples of scholarship award winning essays

Letters of Recommendation – tips & requirements

Types of scholarships awarded

Other scholarship opportunities
We invite high school principals and counselors to schedule an application workshop on your campus in January or February 2017 for your graduating high school seniors.
Workshops are scheduled for all Mendocino College locations as follows:
UKIAH CAMPUS, Library Classroom 4210
Wednesday, February 1 from 4:00 to 5:00 p.m.
Thursday, February 2 from 4:00 to 5:00 p.m.
LAKE CENTER, Round Room 7050
Tuesday, January 24 from 4:00 to 5:00 p.m.
NORTH COUNTY CENTER, Large Group Study Room
Tuesday, January 31 from 4:00 to 5:00 p.m. 
COAST CENTER, (Room to be determined)
Monday, January 30 from Noon to 1:00 p.m.
AWARDS CEREMONY
Each year the Mendocino College Foundation hosts two scholarship awards ceremonies honoring all our scholarship recipients and donors/sponsors:
Mendocino College Scholarships & Awards Ceremony (second Friday in May)

Mendocino College Foundation, Inc. Scholarship Awards Ceremony (third Friday in May)
Both events take place at 5:30 p.m. in the Mendocino College Center for the Visual & Performing Arts Theatre. 
Thanks to the generosity and support of our donors, over 200 scholarships and book awards totaling more than $200,000 were awarded to students for 2015-2016.
For more information contact:    
Lana Eberhard, Scholarship Coordinator     
(707) 467-1018 
leberhard@mendocino.edu