For more information, contact Malissa Donegan at mdonegan@mendocino.edu or Apryl Guisasola at aguisasola@mendocino.edu. 
General Information on Pomo Pathway

What is Pomo Pathway?
Pomo Pathway is a two semester sequence of classes offered by Mendocino College at the Coyote Valley Education Center. This pathway ensures completion of transfer level English and Math courses within the student's first year  and prepares them to pursue a degree.
What Support is Available to you?
Our Commitment to you:
• Free textbooks
• Free calculators
• Free backpack
• Free school supplies
• Free tutoring
• Free academic & mental health counseling
UPCOMING WORKSHOP
Click image for more info. Zoom link here.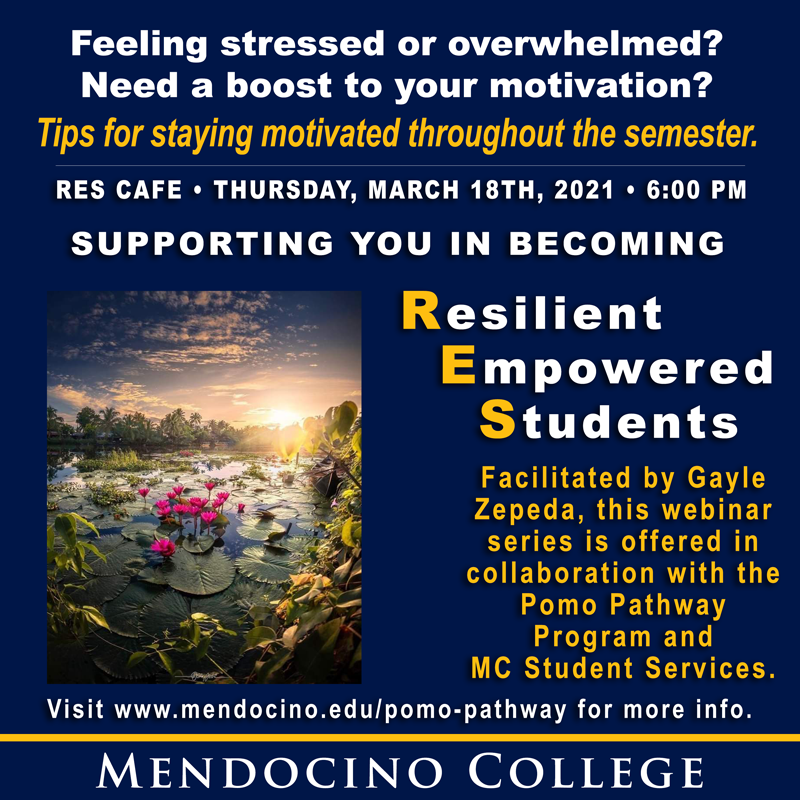 SPRING 2021 CLASSES 
ENG 205 (3 units), Critical Thinking, Professor Rall. * requires completion of ENG 200
This course will offer instruction in argumentation and critical writing, critical thinking, analytical evaluation of texts, research strategies, information literacy, and proper documentation.
MTH 178 (4 units), Applied Math, Professor Terrill
This course will introduce students to mathematics as it applies to the individual and society. Topics include personal finance, statistics, voting, analysis of change, and mathematical applications to current social concerns. Using real-world applications, emphasis is placed on the development of both critical thinking and mathematical problem solving. This general education mathematics course is designed to be an accessible college-level mathematics course for students majoring in the liberal arts. Students who have not completed the prerequisite may enroll in MTH 178 if they concurrently enroll in a Math Lab (MTH 40A, 40B, 40C, 40D, or 540).
MTH 30 (1 unit), Math Success, Professor Terrill
This course will introduce students to the skills needed to be a successful math student. Topics may include study skills, time management, note-taking, reading a math textbook, calculator usage and other skills specific to the math curriculum. This course is designed to be taken in conjunction with a math course for the development of the student's skill set.
COM 203 (3 units), Intro to Public Speaking, Professor Gehrman
This course will introduce students to the theories and techniques of public speaking in a democratic society. Discovery, development, and criticism of ideas in public discourse through research, reasoning, organization, composition, presentation, and evaluation of various types of speeches including informative and persuasive speeches will be explored.

*For specific details on Degree Programs please schedule time to consult with a Counselor.
For more information about the Pomo Pathway Program and how to register:
Malissa Donegan, Native American & Other Populations Outreach & Support Specialist
Office: (707) 468-3223 Cell: (707) 972-7884