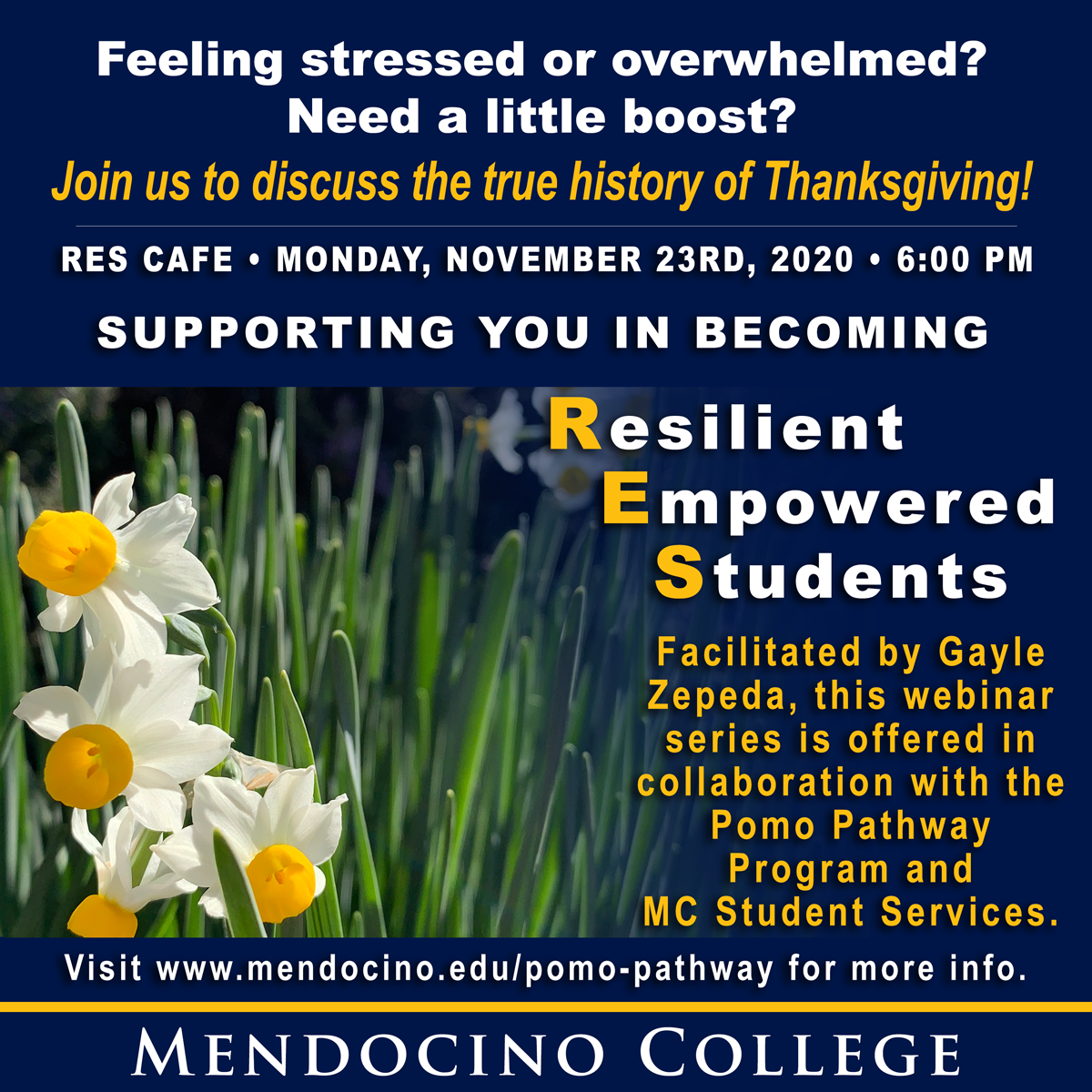 Resilient Empowered Students!
Everyone is welcome to join this free webinar!
Facilitated by Gayle Zepeda, Pomo, Adjunct Instructor 
UPCOMING WEBINARS and their corresponding ZOOM links:
Oct 29 - Staying Motivated   https://cccconfer.zoom.us/j/92776996222
Meeting ID: 927 7699 6222
 Nov 12 - Stress Management - Holiday Edition.   https://cccconfer.zoom.us/j/96295549618
Meeting ID: 962 9554 9618
Nov 23 - True History of Thanksgiving Discussion   https://cccconfer.zoom.us/j/97178395957
Meeting ID: 971 7839 5957
Dec 10 - Closing the Circle.   https://cccconfer.zoom.us/j/91234651883
Meeting ID: 912 3465 1883
For more information, contact Malissa Donegan at mdonegan@mendocino.edu or Apryl Guisasola at aguisasola@mendocino.edu. Please "zoom in" and join us! 
---
General Information on Pomo Pathway

What is Pomo Pathway?
Pomo Pathway is a two semester sequence of classes offered by Mendocino College at the Coyote Valley Education Center. This pathway ensures completion of transfer level English and Math courses within the student's first year  and prepares them to pursue a degree.
What Support is Available to you?
Our Commitment to you:
• Free textbooks
• Free calculators
• Free backpack
• Free school supplies
• Free tutoring
• Free academic & mental health counseling
FALL 2020 CLASSES (schedule TBA - All classes online)
Bridge  (the week before the semester)
ENG 41A-0244   (Course # followed by Section #)
ENG 41B-0250 (in case students already enrolled in 41A at some point)
ENG 41C-0276 (in case students already enrolled in 41A and B at some point)
Core Classes: 
CCS-101-0338 Career and Life Planning (3 Credits)
 
This course will assist students in establishing and achieving education, career, and life goals through a comprehensive approach to effective planning. Students will examine how psychological, social, physical and environmental factors impact career and life choices.
CCS-124-0578 Successful Online Student (1 Credits)
 
This course explores the theory and practice of successful online learning. The course familiarizes students with the course management system used for online courses at Mendocino College and many California Community Colleges and offers practical guidance and hands-on experience in a variety of approaches for increasing their online learning success.
ENG-200-1622 College Composition (3 Credits)
 
This course will fulfill the requirements of the first semester of freshman composition at the university level. All sections are both writing and reading intensive. Topics covered include thesis development and support, writing essays in various rhetorical modes, close reading, and completion of a thorough, properly cited research paper.
ENG-65-1625 Academic Literacy (2 Credits)
 
This course will incorporate and contextualize reading and writing strategies aligned to English 200 coursework. Students will read and comprehend sophisticated texts and respond to diverse ideas and perspectives through writing expository and/or persuasive compositions.
ENG-560-1631 Basic Reading and Writing Lab (0 Credits)
 
This course will provide basic reading and writing skills support for students completing assignments from any class. Students will have the opportunity to work on their assignments, get help as needed from an English instructor, and be directed toward other campus resources for reading and writing support. This noncredit class is available on a drop-in basis throughout the semester. See the course schedule for locations/times available.
Additional Units for students wanting full-time status*
LIB-200 Info & Research Competency (0.5 to 1 Credits)
This course will teach students to develop a process for dealing with the numerous information sources that barrage us in the 21st century so that information needs are met by learning to use print and electronic indexes, electronic databases, and the numerous resources inside the walls of libraries as well as over the Internet. This introductory course will teach the skills necessary to find, evaluate, use, and synthesize information for information needs within a college environment or the world of work.
HST-222 Native American History (3 Credits)
This course will examine Native American history from pre-Columbian times through the present using tribal histories to illustrate broad historical dynamics and the interplay between politics, law, culture, philosophies, and religions of First Nation people and those of foreigners.
*For specific details on Degree Programs please schedule time to consult with a Counselor.
For more information about the Pomo Pathway Program and how to register:
Malissa Donegan, Native American & Other Populations Outreach & Support Specialist
Office: (707) 468-3223 Cell: (707) 972-7884