May 6, 2021 - 1:00pm
to
May 7, 2021 - 2:45pm
Mendocino College is pleased and excited to invite students grades 6-12 to attend our Virtual 34th Annual Native American Motivation Day on Thursday, May 6, from 1:00 pm to 3:00 pm.
This free event will provide an opportunity for Native American students to learn about Mendocino College programs, meet representatives from four-year universities, and enjoy breakout sessions.
For more information, please contact Malissa Donegan at mdonegan@mendocino.edu.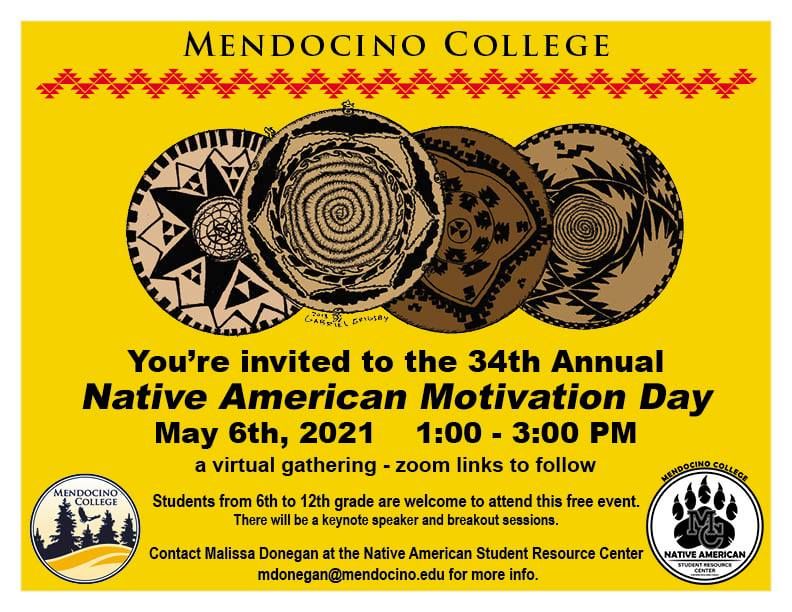 Agenda
Event Theme: Community, Persistence, Resilience – CPR during trying times, "We Got This!"  
This event has ended. For a link to the webinar recording CLICK HERE. 
1pm  - Opening Prayer by Temashio Anderson, Board of Trustees
1:05pm - Welcome from Mendocino College Superintendent/President Tim Karas  
1:10pm -  Ice breaker, Vice President of Student Services, Ulises Velasco
1:20pm Keynote  Speakers – Bonnie Lockhart and Christina T
1:40pm Tutors/Pomo Pathways Student Panel:  
Ledah Duncan (Pomo Pathway student)  
Gudelia Cisneros-Whiterock (Pomo Pathway student)  
Marco Toledo (Guided Pathway Student Leadership) 
Carmen Gallegos (ESL & Spanish Tutor)  
Caitlin Lazaro (English & Music Tutor) 
Connie Rystad (Pomo Pathways and English Tutor)  
John Rall (Pomo Pathways English Professor) 
2pm-2:30pm: Breakouts  
Please click the link of the event you would like to participate in. There are 2 options for each time slot.  
Finding Balance using the Medicine Wheel: Discussion about the physical, emotional, mental and spiritual directions that assist us find balance in our everyday lives. 
Facilitated by Gabe Ochoa, Sherwood Valley 
https://us05web.zoom.us/j/82151185439?pwd=Rm4zc1dSczhWN0E4V3FETmJidXpFUT09 
OR 
Sports and Indigenous Mascots: Discussion about the timeline of events regarding sports and Indigenous Mascots. 
Facilitated by Chairman Cromwell, Robinson Rancheria 
https://us02web.zoom.us/j/84454384811?pwd=VFJ2UWxWdEdjaTBVWEd4ZEdrc3g5UT09 
2:30pm-3pm 
Introduction to CIMCC's Tribal Youth Ambassadors 
Facilitated by CIMCC's Tribal Youth Ambassadors, Jayden Lim (Pomo) and Matthew Molina (Pomo) 
https://us02web.zoom.us/meeting/register/tZ0rcuGsrzgoHdBT2MLHhGVLO25J3z4hpN43 
OR 
Mindfulness to Connect with Education: The Power Within 
Facilitated by Kita Grinburg and Mercy Ruiz (Kashaya) 
https://us02web.zoom.us/j/84151713575 
Closing Prayer by Martin Martinez