Ins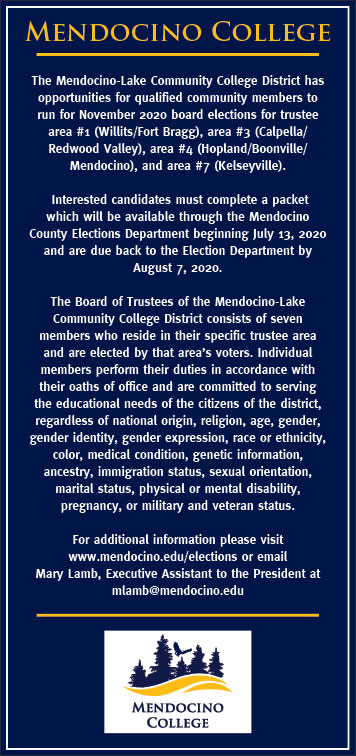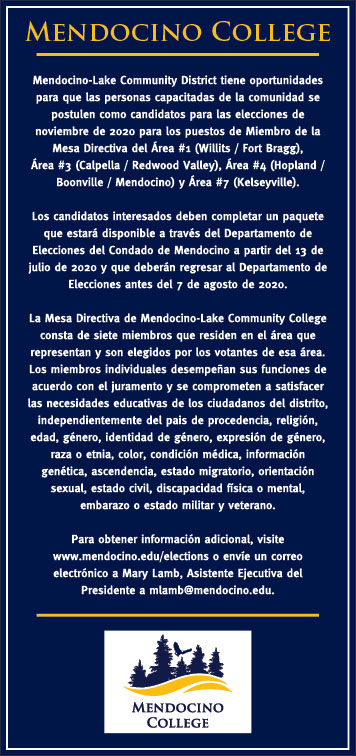 Trustee Area's up for November 2020 elections:
Trustee Area #1 (Willits/Fort Bragg) –  election to a 4-year term (2020 – 2024)
Trustee Area #3 (Calpella/Redwood Valley) – election to a 4-year term (2020 – 2024)
Trustee Area #4 (Hopland/Boonville/Mendocino) – election to a 4-year term (2020 – 2024)
​Trustee Area #7 (Kelseyville) – election to a 4-year term (2020 – 2024)
The board members duties are outlined in Board Policy 208 and 2200, CLICK HERE to view. 
Please note:  Per Board Policy #317, the college cannot support, promote or advertise for individual Governing Board candidates. (https://www.mendocino.edu/sites/default/files/docs/policies/BP317.pdf)
CLICK HERE to view the November 3, 2020 Mendocino County election timeline, and HERE for the Lake County election timeline.
Cost to Candidate:
There is no cost to the candidate to file candidacy papers for the upcoming November 3, 2020 board member election. If the candidate wants to provide a candidate statement for the Sample Ballot that is sent out to the voters, CLICK HERE to see the deposit cost to the Election Department when they submit their candidacy paperwork. 
Candidate Packets:
Candidate packets are now available below and through the Mendocino County Elections Department and the Lake County Elections Department. Packets are due back to the Election Department by August 7, 2020.  
​Please find the Mendocino County candidate filing instructions and documents below: 
November 2020 Candidate Packet
Electronic Filing Instructions
Appointments are necessary at the Elections Department if your candidates would like to start the candidacy paperwork in person.  They are not open to the public on a walk-in basis yet.  Appointments only.
* If a candidate chooses to file in the office, there is no walk-in service at this time. It is by appointment only. Appointments are limited so please call in advance to schedule time. (707) 234-6819.
Please find the Lake County candidate filing instructions and documents below: 
For this election, due to COVID-19, social distancing, and helping to ensure staff and candidates stay as healthy as possible, print and complete prior to coming into our office to file your Declaration of Candidacy for the office of Governing Board Member:
(1) Candidate Election Calendar/Handbook (for information only)
(2) Application for Declaration of Candidacy
(3) Ballot Designation Worksheet
(4) Form 501 – Intention Statement (complete page 2 only)
(5) Form 470 – Candidate Campaign Statement – Short Form (complete page 2 only)
(6) Statement of Economic Interest Form 700 (complete page 5 and any applicable schedules)
(7) Local Gift Fact Sheet (for information only)
(8) Reference Pamphlet (for information only)
These forms are needed if you or your campaign is spending or receiving more than $2000:
(9) Form 410 – Statement of Organization – Recipient Committee
(10) Form 460 – Recipient Committee Campaign Statement
These forms are optional:
(11) Code of Fair Campaign Practices
(12) Candidate Statement Information – Deposit Amount, Agreement, and Form
If you do not have access to a computer or printer at home, please contact us for alternate arrangements of sending these forms to you by calling 707-263-2372.
Please be aware that you must personally file your Declaration of Candidacy in our office, located in the Lake County Courthouse, located at 255 N Forbes St, Room 209 (second floor), in Lakeport, between Monday, July 13, 2020 and no later than Friday, August 7, 2020 by 5 PM (although our office is normally closed on Friday, we will be open to take candidate filings on August 7).  Please allow up to 45 minutes for staff to process the forms and provide you with any additional election materials you may need.  Filling out the forms ahead of time will substantially reduce the time in-person with our staff.
We suggest that the following procedure be followed to file:
Complete the Application for Declaration of Candidacy as soon as possible and return it prior to visiting our office to file and sign a Declaration of Candidacy in one of the following methods:
Email it to elections@lakecountyca.gov.
Fax it to 707-263-2742.
-OR-
Return it to our office in person during regular business hours.
Contact our office via phone if you need help completing forms.
Feel free to call us at 707-263-2372 if you have any questions or need additional information.