About   |
Mendocino College Coast Center is the newest location to be added to the Mendocino Lake Community College District (CCD). Other Centers are located in Willits (North County Center) and Lakeport (Lake Center), with the main campus in Ukiah. The goal of all Centers is to provide classes, services, and access for students in remote parts of the Mendocino Lake CCD. To this end, the Coast Center offers fall, spring, and summer classes; admissions and registration assistance; academic counseling; financial aid; EOPS; CalWorks; and other support services.
The beautiful Coast Center campus provides a friendly and accessible atmosphere for new and returning college students. Our faculty and staff offer continuing education and support services that lead to college degrees, certificates, improved job skills, transfers to other colleges and universities, and personal enrichment. It's never too soon (or too late!) to start thinking about what high education can do for you. For information and/or assistance, please call or stop by the Coast Center.
Coast Center Contact Information:
707.961.2200
Address:
Mendocino College Coast Center
1211 Del Mar Drive
Fort Bragg CA 95437
Registration/Learning Common Hours :
The Coast Center is open Monday and Wednesday 11am to 3pm (and by appointment by calling 707.961-2200) during the spring 2021 semester. Closed during spring break March 29-April 3.
Summer Hours to be determined.
New- HYGIENE KITS:
New September 2020, by a generous donation of the Friends of the Mendocino College Coast Center, the Coast Center campus now carries personal hygiene kits. Each kit contains a shower cap, comb, toothbrush, toothpaste, razor, shaving cream, soap, body wash, shampoo, emery board, and sewing kit. These are available for currently enrolled coastal students. Simply ask for one at the Registration Desk.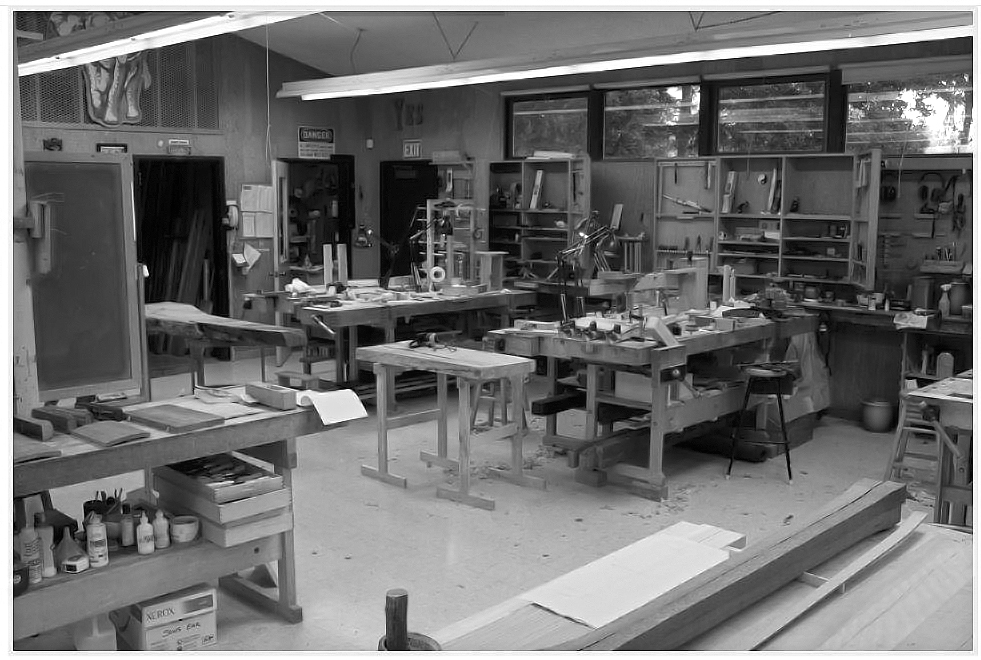 Fine Woodworking:
The Coast Center is proud to offer the Fine Woodworking Program, which leads to two possible certificates of achievement. Call 707.964.7056 for program information or visit https://thekrenovschool.org
Maps   |
The Coast Center
The Coast Center is located at 1211 Del Mar Drive in Fort Bragg CA, about three and a half hours north (172 miles) of San Francisco traveling on Highway 101. The campus consists of two main buildings: Building 100 contains the Registration/Learning Commons and eight classrooms dedicated to video conferencing, computer lab, the sciences, and most academic subjects except art. Building 100 also contains the Part Time Faculty offices. Building 200 is dedicated to art.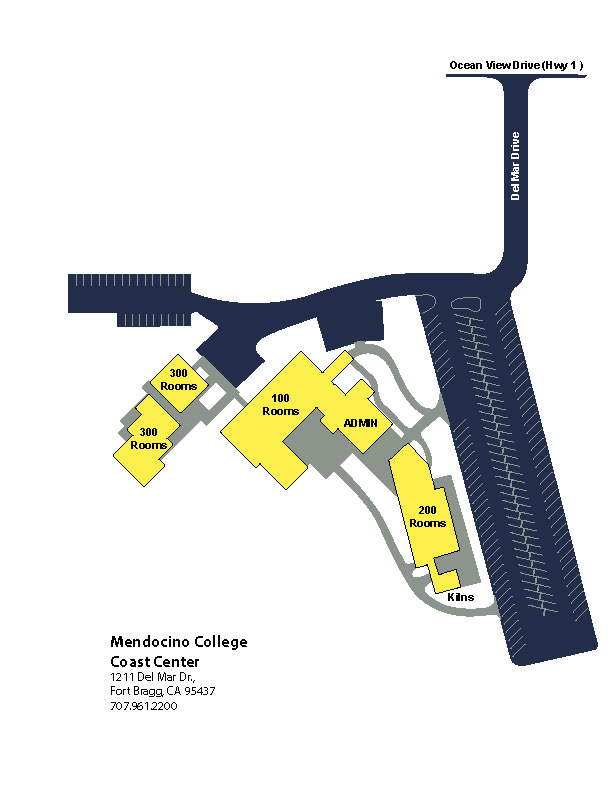 Fine Woodworking
The Fine Woodworking Program in located in the Krenov building, an off campus site at 440 Alger Street in Fort Bragg CA, which is privately tucked away behind the Fort Bragg Middle School/Bus Parking Lot. Call 707.964.7056 to set up an appointment for a tour and to get more information, or visit https://thekrenovschool.org
New Student Information   |
Six Steps to Sign Up
Mendocino College students have access to a vairety of academic and financial support services. For example, Mendocino College students can ride Lake and Mendocino County Transit free with their student ID. All registered students can access the Food Pantry program. Many students are also eligible for financial aid support that can cover the cost of classes, books, and even living expenses. Links to a comprehensive list of support services is below in alphabetical order. For more information about navigating these services, please call the Coast Center.
Events   |
Week of Welcome (WOW): At the start of every fall and spring semester, the Coast Center hosts a free food event for our students.
Job Fair: The Fort Bragg Unified School District, Mendocino College, the Mendocino County Office of Education, and many local businesses gather for a one-stop potential employment event in May.
Lab & Tutor Schedules   |
No face-to-face labs/tutoring is available at the Coast Center at this time due to COVID-19. However, Pisces & NetTutor are available on your instructor's Canvas site. NetTutor ONLINE is available for free to all students in most subjects. You need to enroll in EDU 500, a 0 unit course for Mendocino College tutors. You can enroll at any time for access. If you need more information about tutoring servies, email jdaugherty@mendocino.edu or call 707.468.3046.
Schedule of Classes   |
Faculty & Staff   |
Dual Enrollment   |
What is Dual Enrollment:
Dual Enrollment occurs when high school students are enrolled in both high school and college classes simultaneously. College classes completed by high school students can count as units towards their high school diploma and their college transcript.
Center Resources   |
Counseling Appointments:
The Coast Center offers on-site academic counseling for students. To make an appointment, call 707.961.2200 or stop by the Registration Desk in the Learning Commons.
Disability Resource Center Appointments:
The Coast Center offers on-site Disability Resource Center counseling appoints once a month. Interested students should book appointments early. To make an appointment, call 707.961.2200 or 707.468.3031.
Financial Aid Appointments:
The Coast Center offers on-site financial aid assistance once per month. Interested students should book appointments early by calling 707.961.2200.
Food Pantry:
The Coast Center Food Pantry is available to all currently registered students. The goal of the Food Pantry is to provide short-term food resources to students in need. To access the Food Pantry, students fill out a request card at the Registration Desk.
Free Bus Passes:
Mendocino College students ride MTA and Lake Transit free! Once registered, obtain a student ID, which you then present upon boarding a bus. You can request your student ID at the Registration Desk.
Lending Library:
The Coast Center has a reserve library with books available for in house use for many courses offered at the Coast Center each semester. Books can only be used in the Learning Commons, but students can make copies of important pages to take home. You will need to leave your Driver's License with the Center Assistant while you use the textbook.
The Coast Center also has a small supply of textbooks that can be checked out! Simply renew by due date. See the Center Assistant at the Registration Desk to find out which books are available.
Useful Links   |
Employment Opportunities   |